The big question on everyone's masked lips today is "Can a face mask successfully prevent the spread of COVID-19?" The answer, according to medical experts, is a resounding YES! When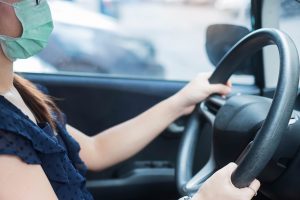 combined with frequent hand washing and social distancing, face masks can help slow the spread of this condition.
So, why were face masks not implemented at the beginning of the pandemic? COVID-19 is something the world has never seen and we will continue learning more about this disease as time goes by. But, at the onset of the pandemic, no one, not even the medical experts, could fathom what the extent of the contagion would be. It is now understood that the infected could be showing symptoms of coronavirus or not. Either way, the threat of infecting others is just as high.
Some public health groups have mentioned that the supply of these masks is running short, especially the N95 masks and perhaps masks should be reserved for health care workers. The CDC acknowledged this by suggesting cloth masks are implemented and surgical N95 masks are reserved for health care providers.
How do the different types of masks work?
Surgical masks
The surgical or medical face masks are loose-fitting masks that protect the user's mouth and nose from droplets and sprays that can contain the infection. Surgical masks can protect others around the user by greatly reducing the range of salivary and respiratory secretions. These are disposable items that can be discarded after use.
N95 masks
The N95 is actually more of a respirator and offers far better protection than your average surgical mask. It has a filtrations system that blocks particles large and small when the user is breathing. The 95 in the name indicates that the N95 can effectively eliminate 95% of all particulate matter. Some of these masks are equipped with valves that release unfiltered air when the user breathes out.
Healthcare workers are required to confirm that their N95 mask is fitted with a functional seal before entering a workplace. Like a surgical mask, the N95 was originally designed to be a disposable unit, but some researchers are investigating ways that the N95 can be disinfected and reused.
Some of the N95s have a valve that makes them a bit easier to use. But, because the valve releases unfiltered air, the mask does not actually prevent the spread of the virus. For this reason, many public locations will not admit those using an N95.
Cloth masks
While surgical and N95 masks may be in short supply and should be reserved for the vital medical community and health care workers, there is no such shortage with the cloth mask.
If everyone is wearing a cloth mask the spread of the coronavirus can be reduced considerably especially by those who could be incubating the virus and still not know this. Those countries that have applied testing, isolations, face masks, and social distancing have seen a considerable drop in the spread of this potentially deadly virus.
Cloth masks are simple to make and plenty of instructional videos can be found online. Cloth masks can be made from just about anything that you have in your home, from sheets and pillowcases to old t-shirts and other tightly woven cloth fabrics. The CDC has some good examples of how a mask can be made with no sewing required. The masks made of cloth should feature a few layers of fabrics.
How to wear a face mask
Face masks should be worn in all public areas to avoid the spread of the virus. In certain public areas like supermarkets, it is especially difficult to maintain social distancing. Here are some tips for the best ways to put your face mask on and take it off:
The proper position for the mask covers the mouth and nose.
Never touch the mask while wearing it.
If you do touch your mask, to readjust its position, etc., wash or sanitize your hands immediately.
Wash hands immediately after removing your mask.
Regularly disinfect your mask with soap and water
Finally, here are a few important precautions to maximize the efficacy of your face masks.
Never place a mask on anyone that is having a hard time breathing.
Do not put masks on children under 20 years of age.
Remember that face masks are not a substitute for social distancing measures.